Sabbazza sauce: my first culinary invention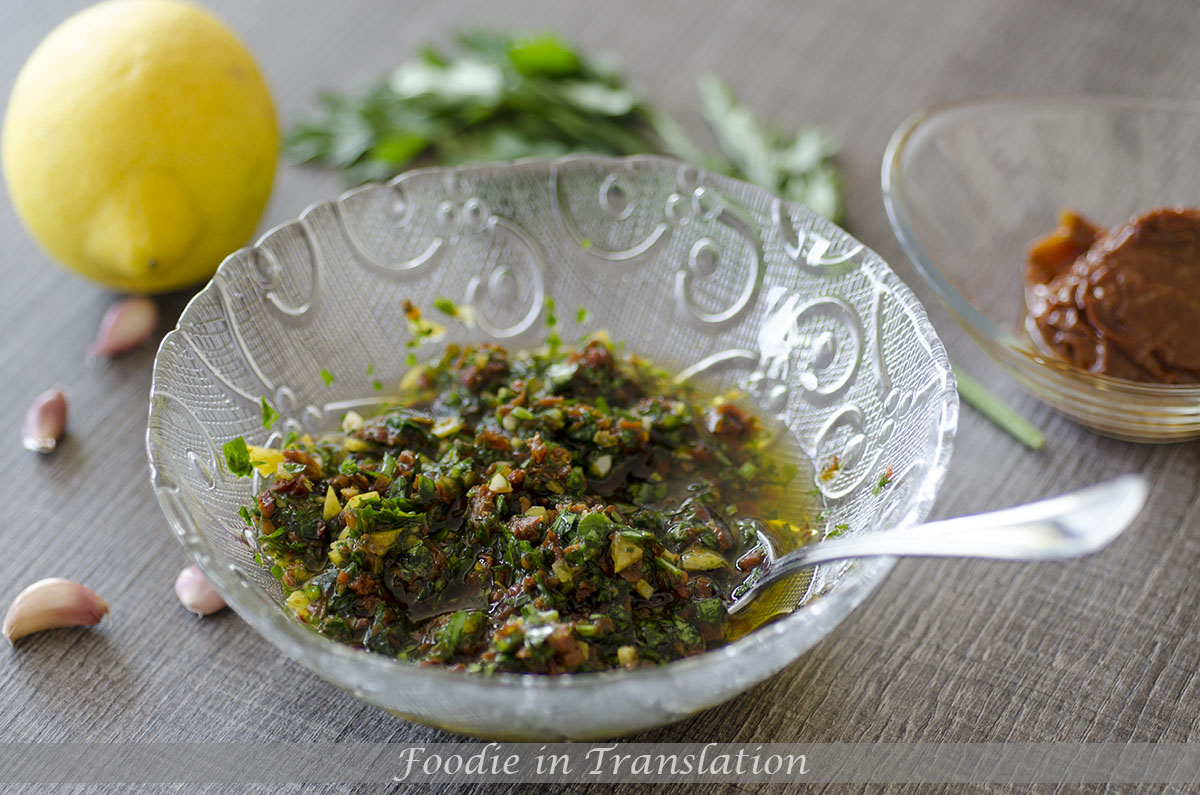 Have you ever heard about the Sabbazza sauce?
No? Of corse, you haven't! 😀
I invented it! And now I will tell you how.
Parsley used to be one of the few forbidden ingredients in my kitchen!
Why?
Because my partner was selectively intolerant to parsley. He just couldn't eat it. Maybe it was due to the tons of parsley he used to eat as a child…
Why am I writing at the past tense?
Well, we don't know why, but apparently he has no problems with the parsley I can find at the local market place.
God knows what happened, but I am taking advantage of this situation by preparing so many dishes with parsley that I am getting scared of myself! 😀
And it is such good news, because my latest craze is chopping not only aromatic herbs but almost every ingredient at my disposal, and if I were not allowed to use parsley, it would be unfair.
Well, today I will show you a sauce for which I got inspiration from the chimichurri, an Argentinian sauce we discovered one year ago or so in an Argentinian restaurant, served with delicious grilled meat.
Being a sauce completely invented by myself, it had no name.
So we had to find one!
The name comes from an Italian play on words gone south during dinner.
We had so much fun that we decided it deserved to be remembered and Sabbazza became the name of this amazing sauce 😀
Apart from jokes, it is perfect with red meat, most of all pork, with white meat, guineafowl, and it gives a new flavour even to vegetables, such as potatoes.
You can even eat it raw, if you like it.
---
Sabbazza sauce
Ingredients
a bunch of parsley
garlic
dried tomatoes
lemon zest
salt
extra-virgin olive oil
---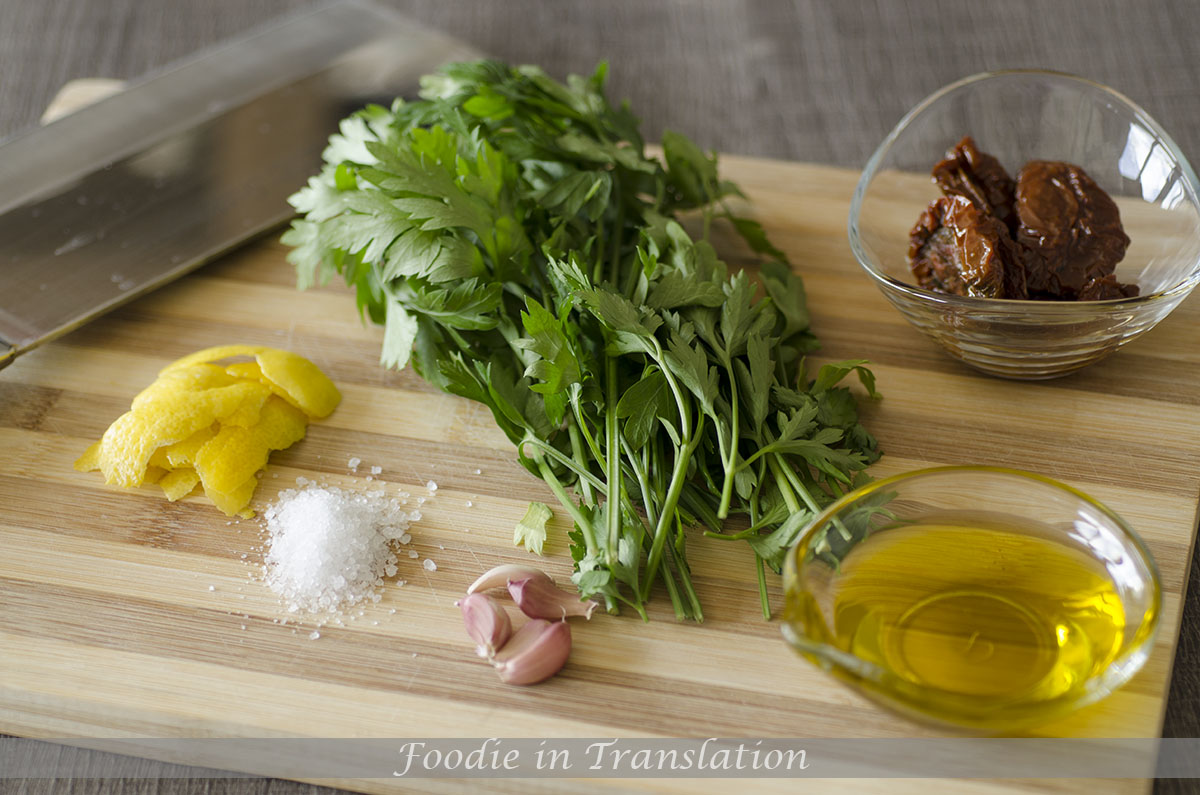 Peel the garlic.
Place parsley, dried tomatoes, lemon zest, the peeled garlic and the salt on a wood cutting board and chop them.
I used a Chinese cleaver knife, but you can use also a mezzaluna knife.
I suggest you not to use an electric blender, because we don't want a sauce with a creamy texture.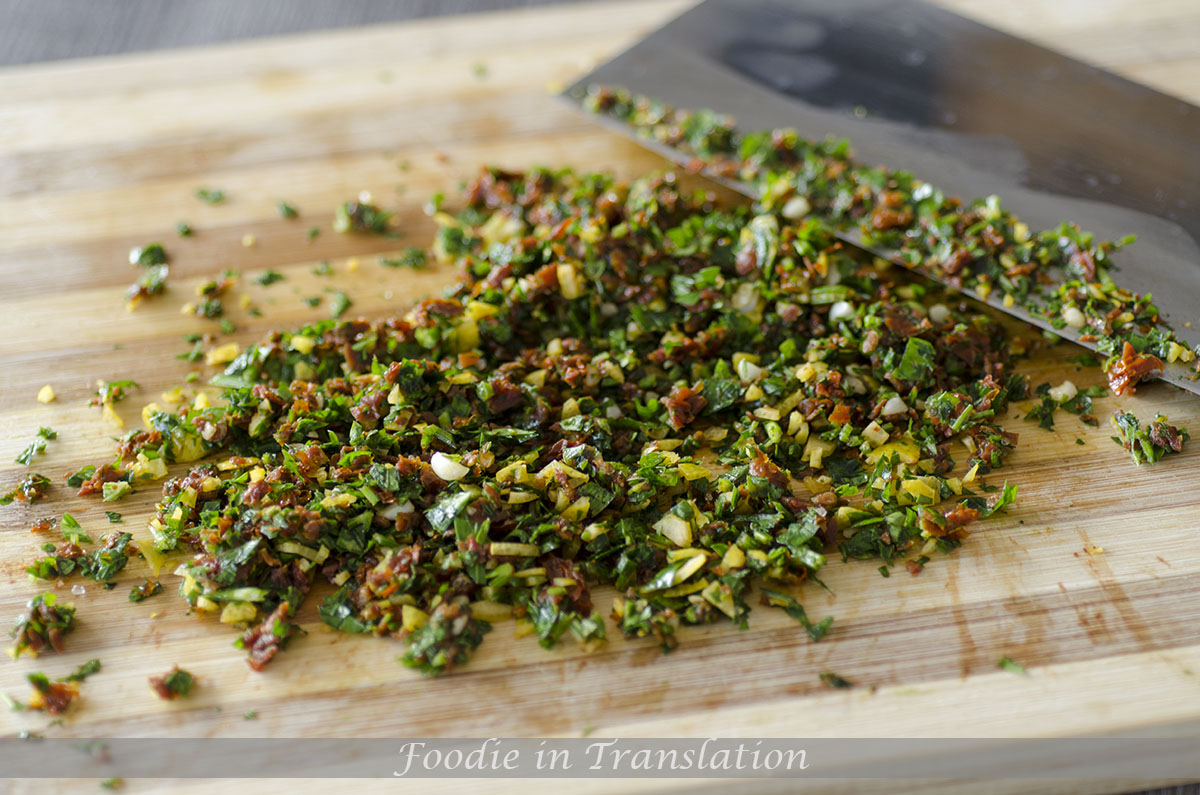 Put the chopped ingredients in a bowl, drizzle with a lot of olive oil, season with salt, mix and the Sabbazza sauce is ready.
Bon Appétit!!
---